We know. It all starts with a subtle change in the way you style your hair, then some thinning around the temples and forehead. You notice. Your stylist notices. Your hair just doesn't "feel" the same as it used to in your 20s and 30s.
It's All About The Hormones
Beginning around age 45, women may begin to notice thinning around the hairline, temples, and even the top of the head. This is caused by lowered production of estrogen and progesterone, the hormones that help hair grow faster and stay on your head, longer. During menopause, these hormone levels drop and in turn, androgens dominate which begin to shrink hair follicles and cause hair to grow more slowly.
"During perimenopause, levels of estradiol (estrogen), progesterone, and testosterone begin to fluctuate. After menopause, the levels of estradiol and progesterone are very low, but the ovary continues to make testosterone for several years after the final menstrual period. The hair follicle has receptors to estrogen as well as testosterone, which means that hair growth and hair loss are hormonally responsive.
Without the influence of estrogen on hair follicles, the effects of testosterone predominate and can cause hair loss.
This is common, frustrating, and even devastating for women at a time that their bodies are changing."
Karen Clark, MD
Fellow, American College of Obstetricians and Gynecologists
North American Menopause Society Certified Menopause Practitioner
Other Causes of Thinning Hair
Our thyroid gland controls the production of hormones and other proteins responsible for regulating our body's metabolism. Any imbalance (hypothyroidism or hyperthyroidism) can impact hair growth. In addition, endocrine disorders such as Polycystic Ovarian Syndrome (POS) can also cause hair loss.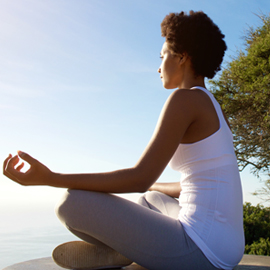 Stress can cause hormonal imbalance and raise androgen levels resulting in hair loss. It can also disrupt sleep cycles and eating habits which can cause hair loss. Additionally, any dramatic loss of weight from extreme low-calorie diets prevents hair follicles from functioning normally and significantly impacts hair growth.
Vitamin B12 and iron both play an important role in helping our bodies produce hemoglobin, which carry oxygen to the cells that stimulate hair growth. Iron is essential for producing hair cell protein and is one of the most important minerals for our hair. Ferritin (our "stored iron") extends our hair's growing phase, allowing hair to reach its potential.